Traditional Shotokan Karate tuition for all
Welcome to Sunderland Karate Central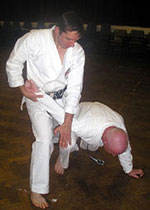 Thank you for visiting our web site. We hope you will find it interesting and informative.
The martial art we practice is Traditional Shotokan Karate, following the teachings of
Master Funakoshi Gichin
, the original founder of Karate.
Sunderland Karate Central was founded in 2004 by Sensei Williams. Sensei Williams' aim is to maintain the traditional values of Shotokan Karate and he is also passionate about teaching the spiritual as well as the physical benefits of this martial art, as taught by Master Funakoshi Gichin. We offer a caring, safe environment, where both adults and children learn the art of Karate.
Most people engage in martial arts practice to learn to protect themselves in these troubled times. The ability to defend yourself effectively is one of the most obvious benefits of Traditional Shotokan Karate but the discipline also promotes honesty, respect and patience. It is not just about physical fitness, but also about developing a more relaxed approach to life, increasing your self confidence and developing respect - for yourself and others!
The classes are hard work but fun, challenging yet rewarding. If we didn't enjoy what we do we wouldn't come back week after week, year after year.
Our aim is to enable everyone at our club to fulfil their maximum potential, and have fun at the same time.

To ensure that you get the best tuition and support possible we are members of the Federation of Martial Arts (FMA) who are affiliated to Federation of English Karate Organisations (FEKO), one of Britain's largest Karate organisations.
Both the FMA and FEKO also have ongoing classes for instructors to make sure that our students have quality tuition.
Shotokan Karate classes are open to both male and female, and all ages from 5 to 65.
You don't need to be young or fit to get started and no special clothing is required - just something loose and comfortable. A tracksuit and t-shirt is ideal.
Your first class is free of charge, so all it will cost you is an hour or so of your time. Drop by your
local venue
and give it a go ...
Contact us
if you would like more information.
The ultimate aim of karate lies not in victory or defeat, but in the perfection of the character of its participants
Master Gichin Funakoshi